IF HE CAN'T HAVE HER, THEN NOBODY CAN . . .
Virtual romance becomes a terrifying obsession in Want You Dead…
Single girl, 29, smouldering redhead, love life that's crashed and burned. Seeks new flame to rekindle her fire. Fun, friendship and – who knows – maybe more?
When Red Westwood meets handsome, charming and rich Bryce Laurent through an online dating agency, there is an instant attraction. But as their love blossoms, the truth about his past, and his dark side, begins to emerge. Everything he has told Red about himself turns out to be a tissue of lies, and her infatuation with him gradually turns to terror.
Within a year, and under police protection, she evicts him from her flat and her life. But Red's nightmare is only just beginning. For Bryce is obsessed with her, and he intends to destroy everything and everyone she has ever known and loved - and then her too . . .
What do you get the girl who has everything? A new life? A new home? A restraining order?
You can always depend on Peter James to create a truly unhinged and evil character who spends his days initially contemplating life without Red and then plotting revenge and in his eyes retribution. He can only see life from his point of view, no one else matters and when he begins to tear Red's life apart step by step no one is safe.
Bryce Laurent is an incredible character and once you've read this book he's pretty hard to forget! A multi layered character, he has so much depth and for me is undoubtedly the star of the show. Sure you've got the enigmatic Roy Grace who's preparing for his wedding but Bryce commands every page he's on and you never quite know what he and the author will come up with next!
What makes matters worse is that Red Westwood refuses to be beaten and although she's scared at the prospect of her ex showing up at work and ignoring any restrictions set by the court, she does not hide. The police do everything in their power to make sure she is safe but when faced with an evil genius there's only so much that the boys in blue can do.
Grace on the other hand is trying to achieve the impossible, run a department charged with catching this psychopath and planning his wedding following the death of his former wife Sandy. As you'd expect things never run smoothly and I'm absolutely positive after reading this that the author spent most of his time trying to put one obstacle after the other in front of our protagonist and see if he comes through smiling at the other end!
Want You Dead is another fine example of an author at the top of his game, Peter James is a class act. An incredibly taut thriller with a spattering of terrific characters and the odd curveball thrown in for good measure, the only thing missing is a packet of fish and chips and perhaps a battered sausage!! Bravo Mr James, bravo!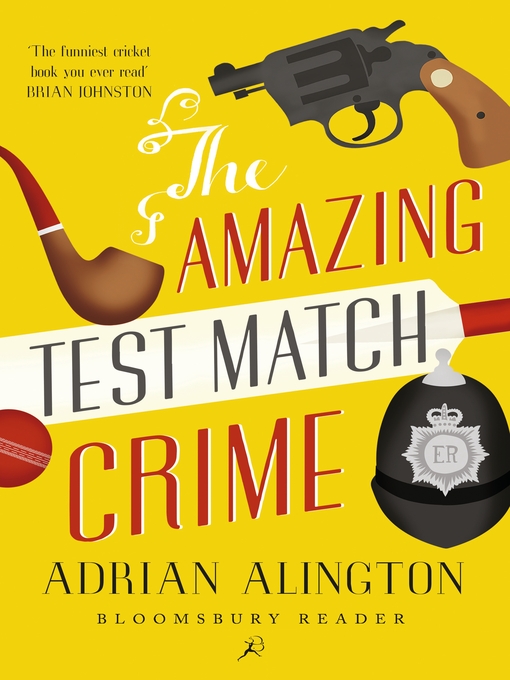 It is 1938 and England is brimming with excitement as the final Test Match against Imperia draws near. But no corner of the land has the fate of the Ashes closer to its heart than the village of Wattlecombe Ducis, Glebeshire.
It was here at the Manor House that Norman Blood, captain of England, spent his childhood playing cricket with the vicar's radiant daughter, Monica. And it was she who presented young but poor Joe Prestwick with a belt on the occasion of his first game of cricket, saving his honour for as Sir Timothy Blood remarked, 'I would rather see the whole village dead at my feet than a man bowling in braces.'
With a short – but sensational – career behind him, Joe just needs to be selected to play at the Oval to win Monica's heart and her hand in marriage: everything depends on the Test.
But The Bad Men, Europe's most wanted gang, have no intention of letting the best team win. Sawn-off Carlo, The Professor and Ralph the Disappointment (an Englishman who, knowing the rules of the Game, is eternally damned for not playing by them) plan to strike a blow at the very heart of proud Albion and her Empire.
First published in 1939, The Amazing Test Match Crime by Adrian Alington is as timeless as a timeless Test Match. It helps to have a smattering of an understanding of the great game but it's not essential for the narrative, humour and sumptuous characters stand the test of time and the closest of scrutiny. Simply put, this is your quintessential summer read that is guaranteed to make you smile and while away the hours gorging in summer's favourite past time.
It's clear to me that Adrian Adlington – who died in 1958 – had a fair knowledge of cricket. The book is loosely based on the final timeless Test match that occurred in 1939 between England and South Africa in Durban, a match that ended in a draw when England after toiling for nine days were forced to catch a boat home – a draw declared.
This is of course where similarity ends for this is a story about crime and the dastardly dealings of The Bad Men, a small group of criminals – one a master criminal – hellbent on changing the course of English history and disrupt the running of an Empire.
The humour, subtle at times, is right on the money and clearly written in a time when things were very different, a time that split Gentlemen and Players. I couldn't help think of the 1932 Bodyline series when two nations were at odds and telegrams and meetings held at the very top of government. With a cameo from the prime minister and humorous exchanges in the Houses of Parliament there's very little missing in this book.
Characterisation is impressive and I couldn't help but warm to all of them, even the criminals. I don't have a favourite, it would be unfair to do so for they are all equally moreish and they all add a little something to the story.
Absolutely wonderful book that had me smiling from the very first page until the last ball. Highly recommended.
Format: Kindle Edition
File Size: 425 KB
Print Length: 256 pages
Publisher: Bloomsbury Reader; 1 edition (28 Sep 2011)
When a young mother is found murdered in a derelict Eugene neighbourhood—and her terrified young son is discovered hiding beneath the floorboards—Detective Jackson reluctantly takes the case.
His own life is already in chaos, with his runaway teenage daughter, Katie, still gone and his girlfriend, Kera, facing her own family crisis. Matters get more complicated when the orphaned boy bonds with Jackson, triggering unexpected emotions and compromising his ability to investigate.
Meanwhile, Detective Evans, one of Jackson's most valuable colleagues, is pulled off the case to look into the death of a University of Oregon football star—leaving the homicide task force shorthanded. As Jackson works to solve the murder and find a home for little Benjie, he soon faces devastating choices that threaten everything he holds dear.
It's been a while since I last read a Detective Jackson book by Eugene author LJ Sellers, far too long. I remember being blown away – literally – with The Sex Club, a book I hadn't expected to enjoy but thoroughly did and given the opportunity to read her latest novel – Deadly Bonds – I jumped at the chance. I wasn't disappointed!
Over the years, Jackson's character has changed – as you'd expect – and now that the main character is in a steady relationship he has to take a fresh look on life and decide what's important to him. Estranged from his daughter Katie Jackson has to fight to keep their relationship on par and despite his best efforts and a job that demands most of his time he struggles to make it work.
This is one of the things I really enjoy about the Jackson books, the family angle and how he never appears to have an easy life whether that's down to his relationships, his daughter, his brother or a number of other variables. One thing you can be certain of – there's never a dull moment!
I really enjoy the cat and mouse chase in the book where we follow Evans and Jackson on their quest for truth – incidentally the final third flew by and the book was over before I knew it. An effortless read, I do enjoy the author's writing style.
One thing I didn't enjoy so much, and I am being hyper critical –this is a guy/bloke thing – was the will they won't they part of the Evans/Jackson relationship. When we follow Evans's point of view throughout the book we are often reminded of an unrequited love and a desire to couple up with her colleague. I've never been one for romance and although this book is far from romantic I wanted to give a balanced view.
The one thing I absolutely loved about this book – young three year old Benjie. What's not to love? A little kid who doesn't like junk food, loves puzzles and has a character of a 20 year old. He brings the book to life in more ways than one and I defy anyone who reads the book not to fall in love with him and want to adopt him! Winner winner, chicken dinner – well done LJ.
A well crafted book, a good plot and a variety of interesting characters – some old, some new – Deadly Bonds is a marvellous addition to the Jackson stable. If you haven't read any of the others do give them a go, you won't be disappointed.
Sheriff Ken Meltzer, from the small town of Whisper, finds the decomposing body of a girl deep in the Georgia forest. Next to her, the skeletal remains of another girl. One victim had been there for sixty days, the other for ten years.
Drugs, theft and reckless speeders are the main worries in Meltzer's county; homicide is not his speciality. A friend at the Atlanta Police Department recommends a freelancer Meltzer has never heard of – former FBI profiler and private detective Keye Street…
Keye Street is a terrific character, one who appears to have grown in confidence and stature and in her third outing here we are introduced to a driven protagonist who is away from home, out of her comfort zone and fighting against a town who definitely don't want her medalling in their business.
From the moment she arrives in small town Whisper it's clear she is on her own, apart from an ally in Sheriff Ken Meltzer, a suave and handsome man, and the two set out to investigate the death of two teenage girls and the disappearance of a third. There's an immediate attraction between the two and along with a fair dose of guilty flirting, Keye has to fight the urge to give in to temptation given her relationship with Atlanta PD's Aaron Rauser back home.
From the outset the regular characteristics of a Keye Street novel are clear for all to see and read, the subtle humour, addiction, an intelligent narrative and last but not least – the Krispy Kremes. The novel wouldn't be complete without those giant glazed balls of fun Street hankers for, a substitute for her alcohol addiction, and in reality an example of one addiction replacing the other. I experienced my first Krispy Kreme just before Christmas and all I can say is I know where Keye is coming from!
As I've already mentioned above the narrative is intelligent, strong and well-crafted allowing the story to move along at a rapid pace. For me it never falters and the combination of a good plot helps the book reach the heights it deserves. Nothing is ever straightforward in crime novels and Don't Talk to Strangers is no exception. Slowly but surely the author introduces sub plots and suspects and you never quite know who's guilty or innocent and the book will definitely keep you guessing right up to the very end.
As the investigation gains momentum, with a little coercion from Keye, the town gives up her secrets, one by one, and with each revelation we are treated to another possible outcome. The pace towards the back end of the story is relentless and everything comes to head with a fitting finale.
Another strength of Amanda's writing is her explanation as to why the culprit is finally caught. It's the small things that matter and the attention to detail in all her books is outstanding.
I thoroughly enjoyed Don't Talk to Strangers, arguably the strongest book of the three, I could see a certain maturity to the writing and delivery, there's no flannel, and it works incredibly well. The book, although the third in a series, can be read on its own but you will lose a great backstory so I'd advise beginning with book number one. Highly recommended, my favourite book of the series, this is one not to be missed in 2014. There's only one thing missing, a Krispy kreme.
Paperback: 336 pages
Publisher: Headline (1 July 2014)
Language: Unknown
ISBN-10: 0755384253
ISBN-13: 978-0755384259
Ever since The Burglar on the Prowl climbed the bestseller lists in 2004, fans have been clamouring for a new book featuring the lighthearted and light-fingered Bernie Rhodenbarr. Now everybody's favourite burglar returns in an eleventh adventure that finds him and his lesbian sidekick Carolyn Kaiser breaking into houses, apartments, and even a museum, in a madcap adventure replete with American Colonial silver, an F. Scott Fitzgerald manuscript, a priceless portrait, and a remarkable array of buttons. And, wouldn't you know it, there's a dead body, all stretched out on a Trent Barling carpet…
I have one admission before I begin this review, not only have I not read Bernie's previous exploits as a burglar but I've not read any of Lawrence Block's books and with this in mind, Bernie and Carolyn were a completely unexpected and dare I say colourful package. Given that this title represents Bernie's eleventh adventure I have some serious catchup to do!
On more than one occasion during The Burglar Who Counted the Spoons I was reminded of LC Tyler's Elsie and Ethelred partnership, a series I've taken so much enjoyment from in the past.
Although a crime book, for me, The Burglar Who Counted the Spoons is more of a humorous read, an adventure interspersed with criminal activity, a death and a climactic scene where we discover who the culprit – or culprits – are. I can't tell you how often I laughed at the dialogue, this book is the epitome of a fun read where you leave all your troubles at the door and simply enjoy the ride.
Bernie is a terrific character and his relationship with Carolyn as solid as they come. Both enjoy each others company and the way Block has written their friendship, you never feel as a reader that you are eavesdropping on something you shouldn't. You are always, or at least I did, made to feel part of the story and partnership.
As I have already mentioned, given that this is the eleventh time Bernie has funkily strutted his way to solving crimes and enjoyed numerous amorous dalliances, I never once felt as if I had been alienated from past novels. Sure, like all things, I would have gained a knowledge and understanding of what makes our intrepid burglar tick but such is the way the author has crafted this book I found it worked as a standalone rather well.
So there we have it, a crisp and assured read, sumptuously funny but the overriding feeling I'm left with after turning over the final page – gratification. It made me smile throughout and from a book, you can't ask any more than that. A wonderful and warm read, a great introduction, albeit a late one, to a series that I now have no option other than to begin at the beginning!
Hardcover: 336 pages
Publisher: Orion (15 May 2014)
Language: English
ISBN-10: 140915355X
ISBN-13: 978-1409153559
Product Dimensions: 23.4 x 16 x 3.2 cm
The Deal
Tom Thorne is back in charge – but there's a terrifying price to pay. Stuart Nicklin, the most dangerous psychopath he has ever put behind bars, promises to reveal the whereabouts of a body he buried twenty-five years before. But only if Thorne agrees to escort him.
The Danger
Unable to refuse, Thorne gathers a team and travels to a remote Welsh island, at the mercy of the weather and cut off from the mainland. Thorne is determined to get the job done and return home before Nicklin can outwit them.
The Deaths
But Nicklin knows this island well and has had time to plan ahead. Soon, new bodies are added to the old, and Thorne finds himself facing the toughest decision he has ever had to make…
You know an author's done his or her job when they set a book on a remote island and the overriding feeling you have when you put the book down for the final time is that you want to visit said island. That's how I felt about Ynys Enlli – to us Welshmen – or Bardsey Island for the uninitiated! Despite the murderous theme and a serial killer haunting the local inhabitants the peaceful terrain and the blackest of night skies wins in the end. Who wouldn't want to visit Bardsey after this?!
Mark Billingham is a master of crime fiction and given my bias regarding anything Welsh I was delighted that the majority of the book was set on an island which – according to ancient folklore – is the home to 20,000 saints and the remains of the legendary King Arthur. Whatever one believes setting a crime novel on an island with limited mobile phone signals, few residents and a lack of electricity is pure genius! But the thing is, it's the kind of thinking you'd expect from Billingham. Thinking outside the box and a couple of miles off the mainland this latest Thorne novel simply delivers on multiple levels.
With notoriously dangerous currents and unpredictable weather, the crossing from Aberdaron is a challenge in itself. In the book you get a real sense of the short trip and the landing on the island and how a day trip can turn into an extended stay should the weather rear its ugly head. Atmospheric and punchy the narrative is typical Billingham. Easy to read and with a story that captures the imagination your journey is over before you know it.
Stuart Nicklin is back and you know that only means one thing to Thorne – bad news and sleepless nights. Ok for the pedantic among us that's two things but I'm writing this article! Add to the mix a remote island with limited communications and a criminal who isn't along just for the ride you know something's about to happen and someone's going to pay dearly for his temporary freedom from prison.
Following on from The Dying Hours, The Bones Beneath feels like a natural progression in Thorne's life. Settled in a relationship and the responsibilities it carries, Thorne is determined to recover a body from the island, giving closure to the victim's mother in the process and return home to enjoy an Indian takeaway. Things don't quite work out that way and Thorne and his colleagues are forced to extend their stay on Bardsey. The author brings the island to life with a wonderfully evocative and enticing narrative that moves along at a fair rate of knots. Along with the odd twist the story is entertaining and completely satisfying with an ending that leaves the reader wanting more!
Breath-taking in parts, Bardsey Island comes alive thanks to an author at the top of his game.
Hardcover: 400 pages
Publisher: Little, Brown (22 May 2014)
Language: English
ISBN-10: 140870479X
ISBN-13: 978-1408704790
My name is Raphael Ignatius Phoenix and I am a hundred years old – or will be in ten days' time, in the early hours of January 1st, 2000, when I kill myself.'
Raphael Ignatius Phoenix has had enough. Born at the beginning of the 20th century, he is determined to take his own life as the old millennium ends and the new one begins. But before he ends it all, he wants to get his affairs in order and put the record straight, and that includes making sense of his own long life – a life that spanned the century. He decides to write it all down and, eschewing the more usual method of pen and paper, begins to record his story on the walls of the isolated castle that is his final home. Beginning with a fateful first adventure with Emily, the childhood friend who would become his constant companion, Raphael remembers the multitude of experiences, the myriad encounters and, of course, the ten murders he committed along the way . . .
And so begins one man's wholly unorthodox account of the twentieth century – or certainly his own riotous, often outrageous, somewhat unreliable and undoubtedly singular interpretation of it.
As soon as I saw the title of this book – The Final Testimony of Raphael Ignatius Phoenix – I knew I wanted to read it, it's as simple as that really. I can't tell you why, I just did. Maybe the title reminded me of one of my favourite films – The Princess Bride – and its main character Inigo Montoya who proclaimed that you killed his father, prepare to die. Maybe Raphael reminded me of Johnny Depp's character in Don Juan de Marco – I have no idea. Whatever the reason, and granted neither of the two aforementioned characters have anything to do with the book, I can't tell you how delighted I am to have experienced such a magical and distinct voice in Raphael Ignatius Phoenix.
Quite clearly – if you haven't guessed by now – this is one of my favourite books and main protagonists I've had the pleasure in reading for a number of years, this book – and Raphael – will stay with me for some time to come. What made the experience all the more poignant is that I discovered the author, Paul Sussman, died in 2012 aged just 45 of a ruptured aneurysm, a great loss to publishing. I've not had the opportunity to read his other books but given that this, his first novel, shows so much strength and character I have no option other than to experience his later work. One thing is certain that with this debut title he leaves an indelible mark on the literary world.
Raphael has decided to kill himself on his 100th birthday. Determined to leave a suicide note he begins to tell his story and slowly works his way back through the decades to his very first murder. It's a slow but imaginative process, there's a lot to tell. It's never rushed, the narrative is both poignant and breath-taking. Sussman clearly knew how to write and what makes this title more fascinating is that it was never published during his lifetime.
Along the way we meet numerous colourful characters and personalities but no one comes close to the power and hold Raphael has over the reader. This is one guy who clearly has his head screwed on – or does he – and from a very early age he is on the move, covering his tracks as best he can. One scrape determines his journey, each murder morphing seamlessly into the next adventure.
I really enjoyed how he told the story, not from beginning to end as I expected, but from Raphael's final days to his very first breath. Imaginative and well told, this is one story that deserves to be read again and again.
Hardcover: 352 pages
Publisher: Doubleday (22 May 2014)
Language: Unknown
ISBN-10: 0857522183
ISBN-13: 978-0857522184
The mission is to enter one of the most dangerous countries in the world.
The target is one of the toughest to reach.
The result could be momentous – or it could be Armageddon.
There is no margin for error. US government operatives Will Robie and Jessica Reel have to prove they are still the best team there is. But are they invincible when pitted against an agent whose training has been under conditions where most would perish?
An old man is dying in an Alabama prison hospital, it seems there is one more evil game he has still to play.
And it's a game which comes close to home for Reel and Robie. But this time the stakes might be way too high.
Although my first David Baldacci novel I had a pretty good idea of what to expect from the outset, it is a thriller after all, and after reading it one thing I can guarantee is that it certainly won't be my last. A seasoned veteran of the thriller genre, Baldacci knows how to put together an exciting and entertaining story all the while keeping the reader involved from start to finish. The Target represents Will Robie's third adventure, accompanied by Jessica Reel, but for me this book is more about the development of Chung-Cha, her journey and the ruthless North Korean government and brutal labour camps.
There were a few instances where the story stretched credibility but this is what you get with adventure and thriller stories but what Baldacci does do well is morph the three main story arcs together seamlessly. Like most thrillers you find yourself scratching your head at times wondering what the author has in mind and where he's going with it all but a third of the way through things start to become a little clearer.
Robie is a great character, as is Reel, and he certainly carries a fair chunk of this book but as I've alluded to earlier I couldn't get Chung-Cha out of my head. A young girl held prisoner in one of North Korea's labour camps, alongside her family, she is offered a way out by the ruling government. She has to make a devastating – and destructive – decision that will affect the way she lives her life.
From that moment on her life changes rapidly. Although a free woman and living in her own apartment far away from the confines of the labour camp she remains a prisoner of a brutal and tyrannical regime. There is no escaping the hold the Government has over its citizens and although a favourite weapon of the ruler she lives in fear hour by hour. Slowly but surely, with the aid of a young girl companionship, we see a softness creeping in, a softness that struggles against a harsh history of depravation and torture. She becomes a little more engaging and colourful and despite her job you can't help but feel something for her plight.
It's all about the journey. I really don't like using that word, but you can't escape the fact that this is what it is. The Target is so much more than a little action, a few flying bullets and a couple of protagonists trying to make it through to the end of a book. There is depth here and although I hadn't expected to, I really enjoyed the North Korean angle more than anything else. That said I definitely wouldn't want to live there!
An entertaining read this won't be my last Will Robie adventure.
Hardcover: 400 pages
Publisher: Macmillan (24 April 2014)
ISBN-10: 1447225295
ISBN-13: 978-1447225294
Former detective Lacey Flint quit the force for a safer, quieter life. Or that's what she thought.
Now living alone on her houseboat, she is trying to get over the man she loves, undercover detective Mark Joesbury. But Mark is missing in action and impossible to forget. And danger won't leave Lacey alone.
When she finds a body floating in the river near her home, wrapped in burial cloths, she can't resist asking questions. Who is this woman, and why was she hidden in the fast-flowing depths? And who has been delivering unwanted gifts to Lacey?
Someone is watching Lacey Flint closely.
Someone who knows exactly what makes her tick . . .
Lacey Flint is back for another rip roaring adventure, an adventure on the high seas if you will – well, a small section of The Thames River at least. SJ Bolton has departed and she has re-energized as Sharon Bolton – it's a little like the Doctor Who moment when one doctor morphs into another, one talent replaces another but in this case, fear not my dear friends, only the name has changed. The writing and storytelling is as good and on point as it ever was.
This book for me has a different feel about it, a subtle difference in energy perhaps; a more mature approach, I can't quite put my finger on it. Like all her previous novels Sharon Bolton has a knack of taking you down one road and just as you find yourself at the end of a journey she changes direction and totally surprises you and for no other reason than to shock you for a final time surprises with another twist. The Queen of misdirection strikes again – Bolton reigns supreme!
For me there's more humour this time around, more one liners and the rest of the cast are given not only a voice but a sumptuous personality. We don't see that much Joesbury, but that's to be expected – after all he has gone missing – but Lacey more than makes up for his absence. With Joesbury's silence we are given the opportunity to learn more about Dana and Helen's relationship along with colleagues – new and old. It's a great mix and a balance well delivered and effortlessly achieved.
There's a point fairly early on in the story that totally had me captivated. Lacey is in her canoe exploring the river and the current takes her down a small inlet during high tide. In the distance she spots a woman in a wheelchair, Thessa, and the moment these two meet I don't think I'll forget in a hurry. Thessa is a sensational character, magical, she certainly had a powerful and a somewhat captivating effect on me as I read her story. From the herbal concoctions she forced on Lacey to her charm and personality, for me, apart from the protagonist, she was clearly my favourite character of the book. Strong, assured and wise.
Another strength of Sharon's is her ability to tell a story and this is no exception. As the book develops you find yourself second guessing the author as you try to figure out  who is responsible but as with all her past novels it's never easy! The river comes alive as does Lacey's new home – so much so that I now want to visit!
Another terrific adventure and despite her fears and misgivings, Lacey literally jumps in with both feet  and with a determination and foolhardiness that we come to expect. She definitely does not disappoint! So when's the next one?!!
Hardcover: 400 pages
Publisher: Bantam Press (8 May 2014)
Language: English
ISBN-10: 0593069188
ISBN-13: 978-0593069189
Prosperous, and the secret that it hides beneath its ruins . . .
The community of Prosperous, Maine has always thrived when others have suffered. Its inhabitants are wealthy, its children's future secure. It shuns outsiders. It guards its own. And at the heart of the Prosperous lie the ruins of an ancient church, transported stone by stone from England centuries earlier by the founders of the town . . .
But the death of a homeless man and the disappearance of his daughter draw the haunted, lethal private investigator Charlie Parker to Prosperous. Parker is a dangerous man, driven by compassion, by rage, and by the desire for vengeance. In him the town and its protectors sense a threat graver than any they have faced in their long history, and in the comfortable, sheltered inhabitants of a small Maine town, Parker will encounter his most vicious opponents yet.
Charlie Parker has been marked to die so that Prosperous may survive.
There are a number of guarantees in life and you've no doubt heard most of them, I know I have – death, taxes, stamp duty and One Direction the most popular of all – but you can also add author John Connolly to the mix. Mr Dependable, you can be assured that when you pick up one of his books you are going to be entertained with a gripping story. There's very little point in me harping on about the story in The Wolf in Winter, but as Senator Vernon Trent (played by William Sadler in the film Hard to Kill) profoundly said You can take that to the bank. And take it you shall because this is another wonderful Charlie Parker adventure you'll struggle to put down.
But for me The Wolf in Winter is so much more than an entertaining story, it's about two homeless men – Jude and Shaky. Don't get me wrong, Charlie Parker, the main protagonist plays his role superbly as you would expect and he's always there or thereabouts from the very beginning, but even though Jude and Shaky play a small role in the grand scheme of things they touched me. I don't know what it was about the pair, but when a character or characters unexpectedly have a profound effect on you then you know the author has done his job. These two will remain with me for some time to come.
The story begins with Jude's death and it comes as no surprise to anyone but the manner in which the homeless man dies and his backstory is incredibly moving, the compassion I felt for this man is immeasurable. It really did surprise me.
The Wolf in Winter is definitely character driven (magnificently done I may add), there are a number of goodies and baddies – more than enough for everyone – and they all play their part to round off an accomplished and balanced story. There's humour too, it's not all gloom and doom, supplied mostly by Charlie Parker's friends and allies Angel and Louis. I lost count at the number of times I laughed out loud with their dialogue!
So there we have it, a very short review but one I hope conveys just how good this book is. A terrific addition to the Charlie Parker stable, Dublin's own John Connolly goes from strength to strength and I for one cannot wait to read the next instalment. Dark, moody and gripping The Wolf in Winter is not to be missed. One more thing – that ending – Wow!
Hardcover: 352 pages
Publisher: Hodder & Stoughton (10 April 2014)
Language: Unknown
ISBN-10: 1444755323
ISBN-13: 978-1444755329
December 1938. Moscow. Josef Stalin has lost some gold. He is not a happy man. He asks his henchman Beria to track it down.
September 1940 London. Above the city the Battle of Britain rages and the bombs rain down. On the streets below, DCI Frank Merlin and his officers investigate the sudden disappearance of Polish RAF pilot Ziggy Kilinski while also battling an epidemic of looting unleashed by the chaos and destruction of the Blitz.
Kilinski's fellow pilots, a disgraced Cambridge don, Stalin's spies in London, members of the Polish government in exile and a ruthless Russian gangster are amongst those caught up in Merlin's enquiries. Sweeping from Stalin's Russia to Civil War Spain, from Aztec Mexico to pre-war Poland, and from Hitler's Berlin to Churchill's London a compelling story of treasure, grand larceny, treachery, torture and murder unfolds. Eventually as Hitler reluctantly accepts that the defiance of the RAF has destroyed his chances of invasion for the moment, a violent shoot-out in Hampstead leads Merlin to the final truth….and Stalin to his gold.
It has been well over two years since Mark Ellis released his debut novel Princes Gate, an introduction to Frank Merlin set in February 1940; however in Stalin's Gold we re-join Merlin and his colleagues seven months later in September 1940. London is under attack, not only from the air but on land by a gang of looters determined to make the most of the opportunity to steal luxury items from bombed out buildings. It's up to Frank Merlin to solve the crimes and keep his boss – AC Gatehouse – happy. Not an easy task!
The great thing about this book, and it's no different to the author's first offering, is that you are immediately transferred to London at the height of bombing, close your eyes and you are there. You get a real sense of what it was like to live in those troubled times where good quality food was scarce – for the working class at least – and walking the streets of London a lottery, not only from the bombs but the falling debris left in its wake.
Atmospheric and wonderfully written the narrative really does everything it should to give the reader a feel for that period and along with a plethora of terrifically compelling characters it works really well. A complex story, it takes a while for all the pieces to unravel but unravel it does. It never felt rushed and the pace is for the most part spot on. There were a couple of parts where I found it a little laboured but that was more a point of getting to grips with the foreign names in the Polish community!
The winner for me this time around is not Merlin but the aforementioned Polish community in exile and the atmospheric accounts of a war torn London. Don't get me wrong, there's more than enough of Merlin to satisfy – I would have liked more between Frank and AC Gatehouse as experiences in Princes Gate – but for me it was all about Battle of Britain, the Poles and the bombing!
Another gripping tale from a talented author, let's hope we don't have to wait too long for the next book, who knows it won't be long before Pearl Harbour is attacked by the Japanese and Frank will have something else to occupy his time! Highly recommended and thoroughly entertaining.
Hardcover: 320 pages
Publisher: Matador (1 Feb 2014)
Language: English
ISBN-10: 1783062479
ISBN-13: 978-1783062478