Military CID investigator John Puller has returned from his latest case to learn that his brother, Robert, once a major in the United States Air Force and an expert in nuclear weaponry and cyber-security, has escaped from the Army's most secure prison. Preliminary investigations show that Robert – convicted of treason – may have had help in his breakout. Now he's on the run, and he's the military's number one target.
John Puller has a dilemma. Which comes first: loyalty to his country, or to his brother? Blood is thicker than water, but Robert has state secrets which certain people will kill for. John does not know for sure the true nature of Robert's crimes, nor if he's even guilty. It quickly becomes clear, however, that his brother's responsibilities were powerful and far-reaching.
With the help of US intelligence officer Veronica Knox, both brothers move closer to the truth from their opposing directions. As the case begins to force John Puller into a place he thought he'd never be – on the other side of the law – even his skills as an investigator, and his strength as a warrior, might not be enough to save him. Or his brother.
I've always enjoyed reading David Baldacci's novels holding both the author and the books in high regard but with The Escape, I think the author has cranked up the gears and delivered a highly polished and energetic thriller. It's probably my favourite of his books and even though it serves as my introduction to John Puller not once did I feel a distance with him after missing his previous adventures. What it did do was peak my interest and I now want to read the two earlier Puller novels.
Sure there's a backstory and history involved and although it would have probably made this book a more enjoyable one had I known more about Puller's history it never detracted from what is a brilliant thriller.
With spellbinding characters – I didn't want to put the book down once – and a narrative that is so typically Baldacci the book flows effortlessly from start to finish. Puller is a wonderful character and Baldacci really gives his protagonist the air time to suck the reader into his world. I felt for him, his brother and his father, something I hadn't anticipated when I picked up the book. His nemesis is highly intelligent and is a very worthy opponent, the author doing a splendid job of making me dislike the character immensely!
With enough twists and turns to satisfy the most ardent of critic – seriously you never know what's coming around the corner – and an emotionally charged ending, I admit to having a lump or two in my throat, this books satisfies on so many levels. Give it a go, you won't be sorry and if this is the first time you've picked up a David Baldacci novel then one thing I can assure you, you're in for a treat.
Wonderful writing, superb characters and  a plot that keeps on giving, The Escape is one book not to be missed in this or any other year! I can't recommend this highly enough.
Hardcover:400 pages
Publisher:Macmillan (20 Nov 2014)
Language:Unknown
ISBN-10:1447225317
ISBN-13:978-1447225317
Product Dimensions: 3 x 3.9 x 23.4 cm
In the LAPD's Open-Unsolved Unit, not many murder victims die almost a decade after the crime. So when a man succumbs to complications from being shot by a stray bullet ten years earlier, Bosch catches a case in which the body is still fresh, but any other evidence is virtually non-existent.
Now Bosch and his new partner, rookie Detective Lucia Soto, are tasked with solving what turns out to be a highly charged, politically sensitive case. Starting with the bullet that's been lodged for years in the victim's spine, they must pull new leads from years-old information, which soon reveals that this shooting may have been anything but random.
There's very little to say about Michael Connelly or his protagonist Harry Bosch. Both are at the top of their game, however, in The Burning Room we are faced with a protagonist who is nearing the end of his career.
Teamed with a new partner in "Lucky" Lucy Soto, Harry has to tread carefully and avoid confrontation or risk his end of career pension. It's a delicate balancing act but this doesn't appear to stop our hero and slowly but surely Harry takes Soto under his wing and teaches her how to best approach cases, old and new.
One cold case blends into another and before they know it the two detectives are investigating two high profile cases, one of which has a personal and deeply emotional tie to Lucy Soto and one which will have political ramifications if solved.
The narrative is strong, compact and highly engaging and the characters are colourful and well thought out and with a multi layered plot the book is incredibly easy to read allowing for a rapid development throughout. I thoroughly enjoyed the book and certainly hope that this isn't the end of the Bosch series, he certainly deserves another outing!
With a final chapter that allows the reader to experience a range of emotions The Burning Room is a must read and deserves all the plaudits the book will inevitably receive.
Hardcover:400 pages
Publisher:Orion (6 Nov 2014)
ISBN-10:1409145514
ISBN-13:978-1409145516
Product Dimensions: 8 x 3.6 x 24 cm
A man's body is found in an empty house. His heart has been cut out and delivered to his wife and children.
He is the first victim, and Detective Inspector Helen Grace knows he will not be the last. But why would a happily married man be this far from home in the dead of night?
The media call it Jack the Ripper in reverse: a serial killer preying on family men who lead hidden double lives.
Helen can sense the fury behind the murders. But what she cannot possibly predict is how volatile this killer is – or what is waiting for her at the end of the chase…
A stimulating read, Pop Goes the Weasel allows the reader to immerse themselves in a high octane and thrilling game of cat and mouse as they experience DI Helen Grace's efforts to catch a serial killer on the loose. Only time will tell if she can capture the perpetrator and keep her job as her boss, Detective Superintendent Ceri Harwood, exerts increasing pressure to solve the case and as the two ladies clash, all rules fly out the window.
I didn't experience the immense publicity surrounding Arlidge's first book, Eeny Meeny, and as such I felt slightly out of kilter with the back story but the author did a decent job of filling the gaps at the beginning of the book so as not to alienate new readers. I would have liked a little more information on Helen's background and what she had experienced in her first adventure but it didn't stop me from either making sense of the past or enjoy the present.
The narrative is told at break net speeds and the story is over before you know it, this is without doubt a very quick read. A complex plot full of the usual twists and turns you'd expect from a book in the crime genre, it did throw up a few red herrings that surprised me, I really enjoyed being taken for a ride! Brutal and horrific at times, the crimes will leave little to the imagination.
Characterisation is also good and I felt an affinity with DI Helen Grace from the outset, one that never wavered. A troubled woman who clearly has secrets and a dark past, Grace is not always in control of her emotions and is at times reckless but it's this recklessness that make her so unpredictable and exciting. Her work colleagues add depth to the story but it's her nemesis, Chief Crime reporter Emilia Garanita, that truly allowed me to experience a range of emotions I never anticipated. I can't wait to see where this relationship takes us in the future!
Tense, explosive and thrilling Pop Goes to Weasel is a fantastic read.
Paperback: 432 pages
Publisher: Penguin (11 Sep 2014)
Language: English
ISBN-10: 1405914955
ISBN-13: 978-1405914956
Acclaimed bestselling novelist Kunihiko Hidaka is found brutally murdered in his home on the night before he's planning to leave Japan and relocate to Vancouver. His body is found in his office, in a locked room, within his locked house, by his wife and his best friend, both of whom have rock solid alibis. Or so it seems.
Police Detective Kyochiro Kaga recognizes Hidaka's best friend. Years ago when they were both teachers, they were colleagues at the same high school. Kaga went on to join the police force while Osamu Nonoguchi left to become a full-time writer, though with not nearly the success of his friend Hidaka. But Kaga thinks something is a little bit off with Nonoguchi's statement and investigates further, ultimately executing a search warrant on Nonoguchi's apartment. There he finds evidence that shows that the two writers' relationship was very different than the two claimed. Nonoguchi confesses to the murder, but that's only the beginning of the story. In a brilliantly realized tale of cat and mouse, the detective and the writer battle over the truth of the past and how events that led to the murder really unfolded. Which one of the two writers was ultimately guilty of malice?
Malice by Japanese author Keigo Higashino represents not only the first book that I've read by the author but also just happens to be one of my favourite books of the year. It's an evocative read that puts the reader at ease from the opening pages until its dénouement where everything is tied up in a neat, unexpected and satisfying package.
Wonderfully translated from Japanese by Alexander O Smith and Elye Alexander the book is an effortless read. It's as if the author sat down to write and in an hour had finished one of the most captivating reads I've had the pleasure of reading this year. It's such a comfortable read that I found it hard to imagine that this wasn't originally written in English!
As you delve into the story you begin to take things at face value and then, slowly but surely, Keigo Higashino moves the goalposts and takes you, the reader, on a different path and you begin to question everything you thought was true in the beginning. The pace is spot on and as comfort begins to set in, the author starts to unravel the mysteries surrounding the crimes both in present and in the past.
The story is narrated by Osamu Nonoguchi, friend of the deceased and fellow author and a detective and former teacher Kyochiro Kyaga, two very different approaches but both allowing the story to unfold and develop in their own unique way. I enjoyed both viewpoints but found Kaga's reasoning and deductive skills superior to that of Nonoguchi's storytelling. There was just something about Kaga that I found compelling but the way he discovered the hidden secrets and his dogged determination in solving the mystery was nothing short of superb.
If you are looking for crime fiction that is slightly unusual with wonderful storytelling, engaging characters and a simple crime that is anything but, then Malice is without question a must read. A game of cat and mouse from beginning to end, the book satisfies on multiple levels.
Format:Kindle Edition
File Size:645 KB
Print Length:288 pages
Publisher:Little, Brown Book Group (9 Oct 2014)
Ethelred Tressider, mid-list crime writer, is surprised when fellow author Henry Holiday unexpectedly turns up on his doorstep. He's even more surprised when Henry confesses that he may have committed murder while drunk on New Year's Eve. Though he has little recollection of the night, Henry fears he may have killed drinking companion and fellow crime writer Crispin Vynall, and asks Ethelred to discreetly make enquiries in order to discover the truth. As Ethelred and his trusty agent Elsie begin to investigate, they discover that Henry has been set up, and now all that remains is for them to find out why and, more importantly …whodunnit?
If you're looking for an entertaining read, a book that is as near as unputdownable as is physically and emotionally possible and a book that is not only infectious but humorous to boot then Crooked Herring will do you just fine …thank you very much.
Len Tyler continues his Ethelred Tressider series with a heart pounding and jaw aching book that belies his mediocre status as a crime novelist – that's Ethelred not Len Tyler! Ethelred is a wondrous character who has so much to endure on a daily basis – a failure in literary circles and a laughing stock to all other crime writers – but there's something special and endearing about this true English gent that makes me smile. I guess you can't ask for much more than that.
He lives in the rather hefty shadow of his biscuit and food loving agent Elsie and it's this union that allows the book to rapidly tell a rather special story that will leave you with a warm feeling that you don't often experience reading crime fiction. To be fair however, Len Tyler doesn't write your usual crime fiction. Part whodunit and part comedic genius the book flows incredibly well and before you know it you've eaten a full packet of chocolate digestives and begun to make steady but satisfying inroads into a large pack of kit kat's – just like Elsie!
As you may have gathered there's a long running theme of biscuits and food in Crooked Herring and Elsie devours the lot – no biscuit, chocolate or plate of chips is safe. In fact the safest thing in the entire book – forget dead bodies – is a cold salad. Elsie wouldn't be seen dead eating healthily! I wouldn't have it any other way. An agent who will never appear in the vogue magazine she knows what she wants and she knows how to get it. Elsie isn't backwards in coming forwards and at every opportunity she tells everyone just how bad Ethelred is at writing, not your average agent/author relationship but one that works incredibly well for Tyler!
This time around Elsie does appear to be a little more manipulative and she wastes little time in attracting new authors to her stable and even though Ethelred finds himself in a rather precarious situation she always appears to have enough time to strike a deal and to make sure she comes out on top – mostly at Ethelred's cost!
With a narrative that is well written and an ending that will leave you wanting more, Crooked Herring will satisfy on so many levels but most of all it'll make you smile.
Hardcover:320 pages
Publisher:ALLISON & BUSBY (18 Sep 2014)
Language:English
ISBN-10:074901668X
ISBN-13:978-0749016685
April 1943 – A Mitsubishi transport plane plunges from the sky over the island of Bougainville. On board is Admiral Isoruku Yamamoto, architect of the Japanese attack on Pearl Harbor. In a document case chained to his wrist is the greatest secret of the Second World War – a revelation with the potential to change the world if it is ever revealed.
December 2011 – Art recovery expert Jamie Saintclair celebrates the return of a Vermeer painting to its rightful owner, and the day turns even better when he's offered a lucrative commission. Not much can surprise Jamie, but he blinks when mining tycoon Keith Devlin reveals the object he wants him to find. How did the preserved head of a Solomon Island warrior end up in a German museum? And how is he supposed to discover what happened to it in 1945?
The search takes Jamie from Berlin to Tokyo and with every turn the significance of the Bougainville skull becomes ever greater. Soon he realizes he's become involved in something much more important than finding a lost piece of history. Three thousand miles away, the answer lies in airless jungles that have already swallowed up one terrible conflict and are now being torn by a war the world isn't meant to know about . . .
Konnichiwa readers! I absolutely loved this book, loved it! Great characters, wonderful locations and a plot that will keep you on the edge of your seat from beginning to end, if you're like me then you'll struggle to put this down even for a nanosecond.
I've always been a sucker for Japanese history, especially in the 1940's, and although we only get a snippet of the historic events that occurred, James Douglas has blended fact and fiction incredibly well in the latest Jamie Saintclair adventure. I've not had chance to read any of his other books but on the strength of this one alone I have no doubt I will read his back catalogue.
The Island of Bougainville comes alive in so many ways and if you're looking for a holiday destination that includes dense jungles, shark infested coastlines and idyllic beaches then look no further. I should also add that there are a number of armed men waiting to kill at a moment's notice and an island full of snakes – surely that's enough to make you want to go? If not, you can read about the island and her inhabitants from the safety of an armchair and avoid the pitfalls the island offers!
Saintclair is a terrific character and a protagonist you'd happily spend countless hours down the pub listening to his adventures and his knowledge. There's nothing better than a protagonist that knows who he is and what's important to him and his family. He's strong, opinionated and his determination to succeed unrivalled. Add to the mix a vivacious and attractive partner and you have all the bases covered.
That's about all I'm going to say about The Samurai Inheritance, an adventure this good really doesn't need any publicity! Brilliant. 鮮やかな
A review can also be found on For Winter Nights Blog.
Paperback: 480 pages
Publisher: Corgi (28 Aug 2014)
Language: English
ISBN-10: 0552167932
ISBN-13: 978-0552167932
Sentenced to death for a crime he didn't commit, ex-cop Remo Williams is rescued from the electric chair at the eleventh hour and recruited by a secret government organisation named CURE. From this moment, he ceases to officially exist.
From now on, he will be an assassin, targeting criminals who are beyond the law. Remo's trainer is a grouchy old Korean named Chiun, whose mastery of the terrifyingly powerful martial art of Sinanju makes him the deadliest man alive.
Together Remo and Chiun set forth on their epic, impossible mission to vanquish every enemy of democracy – every bad guy who thinks they can escape justice.
This is a new era in man's fight against the forces of evil.
This is the time of the Destroyer.
Originally written in the early 70's Created, The Destroyer – #1 in the Remo Williams series – is a timeless classic and a book that will take you to the past without you actually realising it! Although bereft of mobiles phones, tablets and home computers the book effortlessly stands the test of time and is incredibly easy to devour. In a way it's rather comforting to know that such a place existed, we are far too attached to smart phones these days and anything that allows a little escapism to decades gone by and flared trousers I'm all for it!
As a protagonist Remo Williams stands tall and proud, a man about to die in an electric chair, he has an air about him that for someone who is about to pay with his life for a crime he didn't commit, is quite remarkable. Little does he know the entire episode is an ingenious ploy by CURE to allow him to disappear and become an assassin.  In fact the faux execution and the elaborate plan to help him escape was one of my favourite parts of the book. Well thought out, simple yet effective, he disappears into the night and a new adventure beckons.
Clearly the protagonist Remo Williams is joined by Chuin, an old Korean who has seen it all. A Sinanju master, Chiun can deftly avoid bullets and attack with an explosive speed that few can handle, not even Remo. The relationship is timeless and one I hope will develop as the series matures. I certainly want more scenes with Chuin and although an old man I want to see his character develop!
The whole book, perhaps given the era it was written, reminds me of a typical B movie. I can't quite put my hand on it but that's the overwhelming feeling I had when reading the book. Sure the plot is a little farfetched in some parts but entertaining it certainly is and is without question worth reading the first few adventures to see where it leads.
Great fun and a quick read, Created, The Destroyer offers a great insight into a well established series that is now available on Kindle for the first time since its inception.
Format: Kindle Edition
File Size: 699 KB
Print Length: 187 pages
Publisher: Sphere (21 Aug 2014)
Sold by: Amazon Media EU S.à r.l.
Language: English
ASIN: B00M0KIR3U
Created, The Destroyer by Warren Murphy is the first title in The Destroyer series, published by Sphere. If you want to know more about the series please go to www.thecrimevault.com/book-series/the-destroyer . You can also sign up to the Destroyer newsletter here: www.thecrimevault.com/exclusives/the-destroyer
Ex-counterterrorist soldier Joe Hunter has been called to Mexico to bring an end to a cartel that preys on the people they smuggle across the US border. Once the mission's ended, however, Joe's mission leader and mentor, CIA Black Ops director Walter Hayes Conrad, confesses that the bloody mission is not the real reason Joe has been summoned south of the border.
For years, Walter has kept the details of his private life – especially his family – secret from everyone, even his closest friends. But disaster has struck: his great-grandson Benjamin has been abducted, kidnapped by Walter's sworn enemy, the leader of one of Mexico's largest drug cartels. Walter will do whatever it takes to get the boy back. And he knows Hunter is the man for the job.
But there's one complication — the drug boss just happens to be Benjamin's father.
The great thing about Matt Hilton's incarnation – Joe Hunter – is that you know exactly what to expect, to coin a well-used phrase – it does what it says on the tin. Joe Hunter is back for his ninth adventure and he's as determined and stubborn as ever and although he's starting to creak a little, the bones aren't as young as they used to be, he can still dance with the best of them.
Interestingly for me, although I've read the majority of Matt's books, on reading the book jacket I struggled to pick this one up and it remained on my to be read shelf for quite some time. You see I'm not a lover of – and this is totally a personal taste issue – Mexican dramas or books based on crossing the border, coyotes and cartels. I have absolutely no idea why, I've just never taken to that part of the genre. In the end of course I went for it, purely on the strength and enjoyment I've experienced with his previous novels, otherwise you wouldn't be reading this review and I wouldn't be writing it!
Although not my favourite Joe Hunter adventure, partly due to where the book is set as I've explained previously, this is a fun read. The Lawless Kind is one of those books you can pick up and be thoroughly entertained. Like I've said, the books follow a similar pattern where we see Hunter  called to help Walter Conrad, a father figure, and dispatch a few baddies into the never never. That part never gets old!
Comparisons between Joe Hunter and Jack Reacher will always be there and I'd be interested to see which protagonist would come out smiling, I daresay both would appreciate each other's skills but for me Reacher would come out on top! Just!
A very quick read, the action remains at the forefront of the novel and doesn't let up until the dramatic conclusion. It's the high octane page turning and explosive confrontations that gives Hunter his longevity. A likeable character who is both moralistic and deadly, a heady combination, Hunter takes no prisoners as he sets about handing out his own brand of justice.
Another entertaining and enjoyable read, I'm glad I pushed my own misgivings to one side to read Hilton's latest adventure and long may he continue!
Hardcover: 336 pages
Publisher: Hodder & Stoughton (30 Jan 2014)
Language: Unknown
ISBN-10: 1444784773
ISBN-13: 978-1444784770
Product Dimensions: 23.6 x 16.2 x 3.6 cm
NO GOODBYE
When Leonard Franks and his wife Ellie leave London for their dream retirement in the seclusion of Dartmoor, everything seems perfect. But then their new life is shattered. Leonard heads outside to fetch firewood from the back of the house – and never returns.
NO TRACE
Nine months later, with the police investigation at a dead end, Leonard's family turn to David Raker – a missing persons investigator with a gift for finding the lost. But nothing can prepare Raker for what he's about to uncover.
NOWHERE TO HIDE
Because, at the heart of this disappearance lies a devastating secret. And by the time Raker realises what it is, and how deep the lies go, it's not just him in danger – it's everyone he cares about.
If you are looking for an accomplished storyline, complex and a twist and turn around every corner then look no further than Tim Weaver's Fall From Grace. A solid read, the narrative is powerful and helps keep the book on track from start to finish. Tim Weaver certainly knows how to spin a tale.
David Raker is back and this time he's employed to find the father of a policewoman – DCI Melanie Craw – he has had numerous run-ins in the past and as I read this book the confrontation is still there, this time it's muted – after all she's desperate for his help and no one else can help. As you'd expect things are never what they appear on the surface and one of the great things about this book, you never quite know who to trust and it certainly keeps you guessing throughout.
Raker is a great protagonist and a character who isn't infallible, he often finds himself in the most precarious of situations and Fall From Grace is no different, it's just a case of whether he can talk his way out of this one. A character disliked by the boys in blue he is continually facing an uphill battle to find the missing but somehow he achieves it with the help of a few acquaintances.
The plotting is solid and just when you think you know where the book is going, the author changes gear and takes it somewhere else. The imagery is sumptuous; especially that of Bethlehem and the island, it certainly made me look it up on the internet. I wanted to know more about the island and if it really exists – I'll leave you to discover what's really out there!
With a descriptive and tension filled narrative, it's easy to lose yourself in the storyline and there's a variety of emotive passages waiting to hit you when you least expect it. Weaver's at the top of his game and I for one can't wait to see where Raker goes next.
Paperback: 592 pages
Publisher: Penguin (14 Aug 2014)
Language: Unknown
ISBN-10: 1405913460
ISBN-13: 978-1405913461
Jack Reacher walks alone. Once a go-to hard man in the US military police, now he's a drifter of no fixed abode. But the army tracks him down. Because someone has taken a long-range shot at the French president.
Only one man could have done it. And Reacher is the one man who can find him.
This new heart stopping, nail-biting book in Lee Child's number-one bestselling series takes Reacher across the Atlantic to Paris – and then to London. The stakes have never been higher – because this time, it's personal.
From the very opening until its thrilling conclusion, it's obvious Lee Child is an author at the top of his game and on very steady and well trodden ground with his latest book Personal. Jack Reacher is back for his 19th adventure and few things have changed over the years. He's still an enigmatic and multi layered character, a loner, a go to man and a problem solver, I doubt these traits will ever disappear – I certainly hope not! Those who get in his way know all about his speed, guile and power – most ignore his stature but they soon discover that he is a powerful weapon in his own right.
Travelling by bus from San Francisco to Oregon he finally ends up in Seattle where he happens upon a personal message in a military newspaper. Given the nature of the message he has no alternative other than to act on its request and make a call to an old friend, fortunately for us that is!
One of the things I absolutely love about Lee Child's writing is the voice he gives Reacher and the reasoning behind all the problem solving – it's a little like Sherlock Holmes discussing forensics and angles but with a modern twist! There's always a reason behind his thought process and he approaches each problem like a mathematician – or so it seems to me! An intelligent giant – both figuratively and physically, with the charisma to match, Reacher is one of the literary giants that has shaped how we all view the action/thriller genre. To say he is ground-breaking is an understatement!
Although a loner, Reacher is forced to join up with Casey Nice a young rookie CIA agent suffering with anxiety. As the pair travel from Paris, France and on to London we delve into Casey's background and discover what makes her tick, the partnership is strong and the pair well matched.
If you haven't had the opportunity to read any of Reacher's nineteen adventures – where have you been? – the great thing about this series is that anyone can pick up a book and not feel lost, you are never penalised for not reading in order.
Full of twists and turns Personal will not disappoint. It will engage the brain from the outset and you'll never want to leave the safe hands of Reacher. I for one can't wait for the next adventure; Lee Child has a knack of leaving the reader wanting more! C'est Magnifique monsieur Child!
Hardcover: 400 pages
Publisher: Bantam Press (28 Aug 2014)
Language: Unknown
ISBN-10: 0593073827
ISBN-13: 978-0593073827
IF HE CAN'T HAVE HER, THEN NOBODY CAN . . .
Virtual romance becomes a terrifying obsession in Want You Dead…
Single girl, 29, smouldering redhead, love life that's crashed and burned. Seeks new flame to rekindle her fire. Fun, friendship and – who knows – maybe more?
When Red Westwood meets handsome, charming and rich Bryce Laurent through an online dating agency, there is an instant attraction. But as their love blossoms, the truth about his past, and his dark side, begins to emerge. Everything he has told Red about himself turns out to be a tissue of lies, and her infatuation with him gradually turns to terror.
Within a year, and under police protection, she evicts him from her flat and her life. But Red's nightmare is only just beginning. For Bryce is obsessed with her, and he intends to destroy everything and everyone she has ever known and loved – and then her too . . .
What do you get the girl who has everything? A new life? A new home? A restraining order?
You can always depend on Peter James to create a truly unhinged and evil character who spends his days initially contemplating life without Red and then plotting revenge and in his eyes retribution. He can only see life from his point of view, no one else matters and when he begins to tear Red's life apart step by step no one is safe.
Bryce Laurent is an incredible character and once you've read this book he's pretty hard to forget! A multi layered character, he has so much depth and for me is undoubtedly the star of the show. Sure you've got the enigmatic Roy Grace who's preparing for his wedding but Bryce commands every page he's on and you never quite know what he and the author will come up with next!
What makes matters worse is that Red Westwood refuses to be beaten and although she's scared at the prospect of her ex showing up at work and ignoring any restrictions set by the court, she does not hide. The police do everything in their power to make sure she is safe but when faced with an evil genius there's only so much that the boys in blue can do.
Grace on the other hand is trying to achieve the impossible, run a department charged with catching this psychopath and planning his wedding following the death of his former wife Sandy. As you'd expect things never run smoothly and I'm absolutely positive after reading this that the author spent most of his time trying to put one obstacle after the other in front of our protagonist and see if he comes through smiling at the other end!
Want You Dead is another fine example of an author at the top of his game, Peter James is a class act. An incredibly taut thriller with a spattering of terrific characters and the odd curveball thrown in for good measure, the only thing missing is a packet of fish and chips and perhaps a battered sausage!! Bravo Mr James, bravo!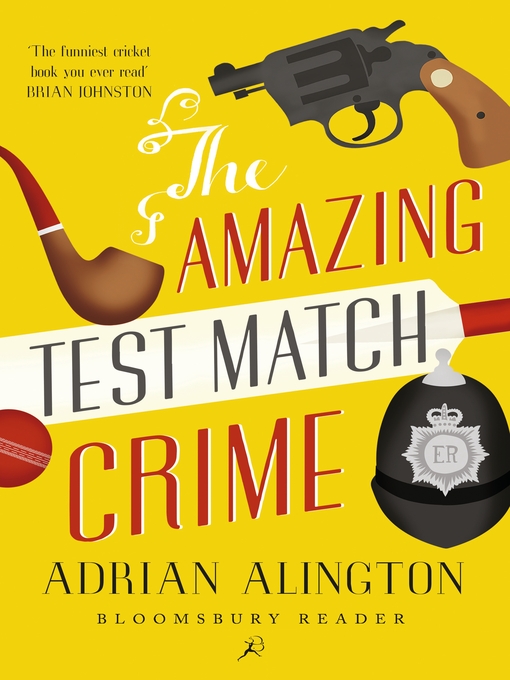 It is 1938 and England is brimming with excitement as the final Test Match against Imperia draws near. But no corner of the land has the fate of the Ashes closer to its heart than the village of Wattlecombe Ducis, Glebeshire.
It was here at the Manor House that Norman Blood, captain of England, spent his childhood playing cricket with the vicar's radiant daughter, Monica. And it was she who presented young but poor Joe Prestwick with a belt on the occasion of his first game of cricket, saving his honour for as Sir Timothy Blood remarked, 'I would rather see the whole village dead at my feet than a man bowling in braces.'
With a short – but sensational – career behind him, Joe just needs to be selected to play at the Oval to win Monica's heart and her hand in marriage: everything depends on the Test.
But The Bad Men, Europe's most wanted gang, have no intention of letting the best team win. Sawn-off Carlo, The Professor and Ralph the Disappointment (an Englishman who, knowing the rules of the Game, is eternally damned for not playing by them) plan to strike a blow at the very heart of proud Albion and her Empire.
First published in 1939, The Amazing Test Match Crime by Adrian Alington is as timeless as a timeless Test Match. It helps to have a smattering of an understanding of the great game but it's not essential for the narrative, humour and sumptuous characters stand the test of time and the closest of scrutiny. Simply put, this is your quintessential summer read that is guaranteed to make you smile and while away the hours gorging in summer's favourite past time.
It's clear to me that Adrian Adlington – who died in 1958 – had a fair knowledge of cricket. The book is loosely based on the final timeless Test match that occurred in 1939 between England and South Africa in Durban, a match that ended in a draw when England after toiling for nine days were forced to catch a boat home – a draw declared.
This is of course where similarity ends for this is a story about crime and the dastardly dealings of The Bad Men, a small group of criminals – one a master criminal – hellbent on changing the course of English history and disrupt the running of an Empire.
The humour, subtle at times, is right on the money and clearly written in a time when things were very different, a time that split Gentlemen and Players. I couldn't help think of the 1932 Bodyline series when two nations were at odds and telegrams and meetings held at the very top of government. With a cameo from the prime minister and humorous exchanges in the Houses of Parliament there's very little missing in this book.
Characterisation is impressive and I couldn't help but warm to all of them, even the criminals. I don't have a favourite, it would be unfair to do so for they are all equally moreish and they all add a little something to the story.
Absolutely wonderful book that had me smiling from the very first page until the last ball. Highly recommended.
Format: Kindle Edition
File Size: 425 KB
Print Length: 256 pages
Publisher: Bloomsbury Reader; 1 edition (28 Sep 2011)
When a young mother is found murdered in a derelict Eugene neighbourhood—and her terrified young son is discovered hiding beneath the floorboards—Detective Jackson reluctantly takes the case.
His own life is already in chaos, with his runaway teenage daughter, Katie, still gone and his girlfriend, Kera, facing her own family crisis. Matters get more complicated when the orphaned boy bonds with Jackson, triggering unexpected emotions and compromising his ability to investigate.
Meanwhile, Detective Evans, one of Jackson's most valuable colleagues, is pulled off the case to look into the death of a University of Oregon football star—leaving the homicide task force shorthanded. As Jackson works to solve the murder and find a home for little Benjie, he soon faces devastating choices that threaten everything he holds dear.
It's been a while since I last read a Detective Jackson book by Eugene author LJ Sellers, far too long. I remember being blown away – literally – with The Sex Club, a book I hadn't expected to enjoy but thoroughly did and given the opportunity to read her latest novel – Deadly Bonds – I jumped at the chance. I wasn't disappointed!
Over the years, Jackson's character has changed – as you'd expect – and now that the main character is in a steady relationship he has to take a fresh look on life and decide what's important to him. Estranged from his daughter Katie Jackson has to fight to keep their relationship on par and despite his best efforts and a job that demands most of his time he struggles to make it work.
This is one of the things I really enjoy about the Jackson books, the family angle and how he never appears to have an easy life whether that's down to his relationships, his daughter, his brother or a number of other variables. One thing you can be certain of – there's never a dull moment!
I really enjoy the cat and mouse chase in the book where we follow Evans and Jackson on their quest for truth – incidentally the final third flew by and the book was over before I knew it. An effortless read, I do enjoy the author's writing style.
One thing I didn't enjoy so much, and I am being hyper critical –this is a guy/bloke thing – was the will they won't they part of the Evans/Jackson relationship. When we follow Evans's point of view throughout the book we are often reminded of an unrequited love and a desire to couple up with her colleague. I've never been one for romance and although this book is far from romantic I wanted to give a balanced view.
The one thing I absolutely loved about this book – young three year old Benjie. What's not to love? A little kid who doesn't like junk food, loves puzzles and has a character of a 20 year old. He brings the book to life in more ways than one and I defy anyone who reads the book not to fall in love with him and want to adopt him! Winner winner, chicken dinner – well done LJ.
A well crafted book, a good plot and a variety of interesting characters – some old, some new – Deadly Bonds is a marvellous addition to the Jackson stable. If you haven't read any of the others do give them a go, you won't be disappointed.